Discover more from Unprecedented has moved!
The newsletter for people who care that democracy's bleeding to death and the planet's on fire is now at https://unprecedented.ghost.io
Over 4,000 subscribers
Filthy Pigs
The Trump Administration's corruption is making our food less safe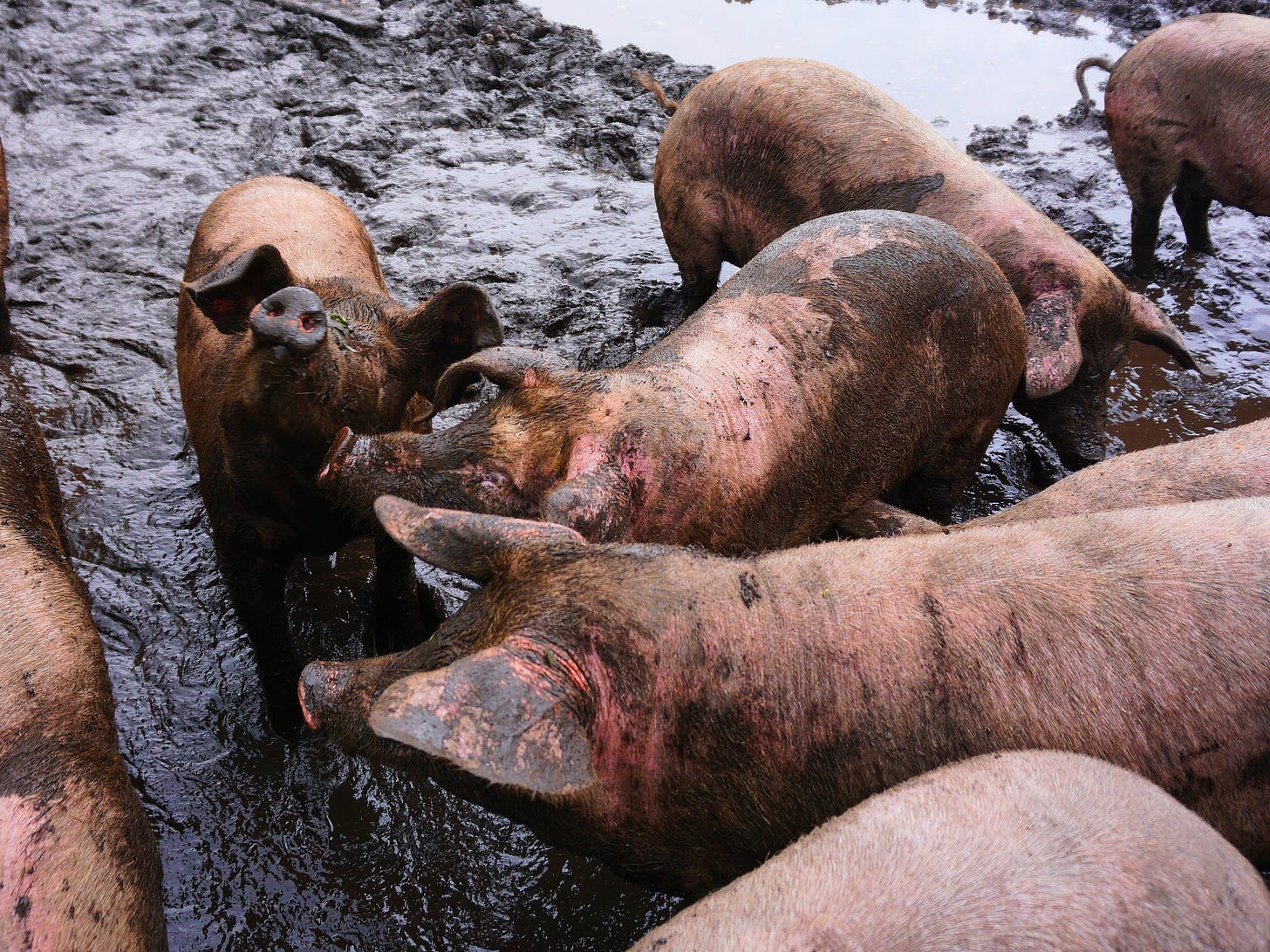 Junk Food For Kids
Just quick, before we talk about pigs…
News broke Friday—on Michelle Obama's birthday, no less—that the Trump Administration was rolling back the former First Lady's school nutrition guidelines which had placed greater emphasis on fresh fruit and vegetables in school meals.
The story—which made only a small blip amid all the impeachment and Iran news—was like many others in this sad and cruel Presidency in that it simultaneously revealed Trump's:
Obsession with the Obamas

Disdain for science and expertise

Wholehearted embrace of corruption
Combating childhood obesity was Mrs. Obama's signature issue and the 2010 Healthy, Hunger-Free Kids Act she championed was viewed by experts as a "tremendous success."
Mrs. Obama's work "improved the diets of millions of children, especially vulnerable children in food insecure households," said Juliana Cohen, a nutrition professor at Harvard University's School of Public Health
Chairman of the House Education and Labor Committee, Representative Robert C. Scott of Virginia told the Times:
"For many children, the food they eat at school is their only access to healthy, nutritious meals."
Sam Kass, who served as the executive director of the Let's Move! campaign, said:
"With one in three of our kids on track to have diabetes, it's unconscionable that the Trump administration would do the bidding of the potato and junk food industries."
Chalk up another win for the special interests looking to poison us.
Now let's take a trip to hog farming country, where four packers control 57% of the market:
Pig Shit For Everyone
Back in 2018, I started a Twitter thread on #FoodSafety by noting: "If only someone could have predicted that cutting the food safety budget would make America's food less safe."
In April 2019, I added this tweet following news that Trump was about to put the pork industry in charge of its own safety inspections:
The rule became official in October.
In December, the media finally woke up to the reality of "unsafe pork":
NBC News reported that Trump's new rules were about to roll out nationwide—and that 90% of US pork would be affected.
"The consumer's being duped," Food Safety and Inspection Service inspector Jill Mauer told NBC News. "They believe that it actually is getting federally inspected when there's no one there to even watch or do anything about anything."

"It's so hard to go to work without feeling physically sick watching this just happen, unfolding in front of you," inspector Anthony Vallone said. "Especially since you took the oath to protect the American people."
Mauer went on to explain that the future pork products Americans would be buying could include: "feces, sex organs, toenails, bladders and unwanted hair."
Also worth noting: The new rules come at a time when the Trump Administration is stepping up raids on meatpacking plants across America in an effort to round up the kinds of undocumented workers these companies (like Trump's) have openly relied on for years. The raids were described by The Atlantic as a "perfect symbol of the Trump administration's racism, lies, hypocrisy, and contempt for the poor."
But in regard to food safety, there may be some better news for bacon lovers on the horizon. I checked in with Food Safety Magazine to discover that there are now not one, but two lawsuits against the new swine inspection rules:
The first lawsuit was filed back in October by the United Food and Commercial Workers Union.
The new lawsuit was filed by Food & Water Watch and the Center for Food Safety (CFS). It alleges that:
"Under- or un-trained plant employees are now charged with identifying and notifying government inspectors when swine carcasses show serious diseases such as pork measles, a rare but fatal disease caused by a tapeworm that is transmittable to humans. The rules also preclude inspectors from preventing the release of swine infected with animal diseases, such as Foot-And-Mouth Disease and African Swine Fever, back into the animal supply, thereby substantially increasing the risk of wide-spread mortality and increased prices, threatening the health and welfare of consumers."
As the new lawsuit states, quite reasonably: "The rules cannot stand and should be permanently enjoined."
Until we get a final ruling, eat pork at your own risk.
---
With just 9 months to the election, your paid subscription helps me dedicate even more time to this ad-free newsletter… but there's also a FREE option, so even if you choose not to become a paid subscriber, please click the Subscribe button to sign up for future FREE email updates. It's a no-cost way to let me know you appreciate—and might want to share—more content like this. Thanks!