The Crimes of Donald Trump
You don't have to buy Michael Cohen's book to know Trump's the most crooked President in history.
Thanks for reading and sharing! If you haven't already subscribed, please do. And thanks.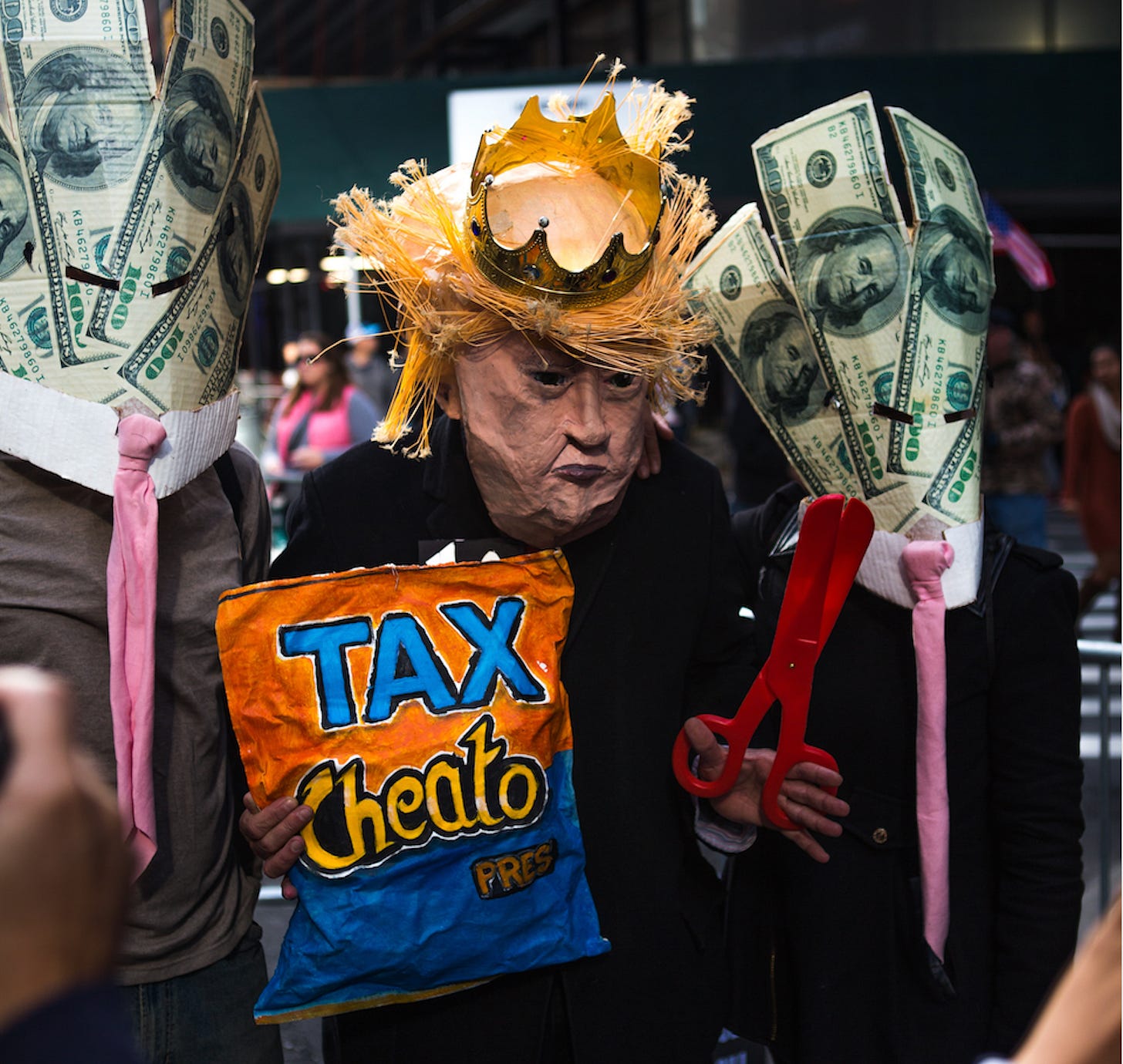 Trump has committed so many illegal acts as President and engaged in so much relentless corruption that, to quote Sarah Kendzior: "It's not a presidency, it is a crime spree." And we can't say we weren't warned.
As David Cay Johnston wrote in Politico way back in 2016:
Trump's career has benefited from a decades-long and largely successful effort to limit and deflect law enforcement investigations into his dealings with top mobsters, organized crime associates, labor fixers, corrupt union leaders, con artists and even a one-time drug trafficker whom Trump retained as the head of his personal helicopter service.
That the GOP allowed Trump to become their 2016 nominee—and that the media gave his campaign the billions of free airtime it needed to appear legitimate—are scandals in themselves. Those mistakes paved the way for a corrupt and incompetent Presidency that will be forever remembered for the death, devastation and despair it has brought to America.
The past four years have been a non-stop blur of investigations, arrests, guilty pleas, imprisonments, pardons and commutations, played out against a background of grubby self-dealing, flagrant violations of the Emoluments Clause, shady foreign loans to Jared, undisguised thievery by Cabinet members, and ongoing Hatch Act violations by the White House staff. Plus an impeachment for High Crimes and Misdemeanors that the Republican Senate simply shrugged at, paving the way for Even Higher Crimes and More Blatant Misdemeanors.
The only surprise is that more people in Trump's orbit haven't already ended up in prison. Although maybe they will soon if Steve Bannon or Elliott Broidy decide to start squawking to investigators.
But even if we set aside all the crimes Trump has committed since he took office, we already know that he already committed at least 10 easy-to-understand, demonstrably proven crimes before he took office, with many of these crimes being committed multiple times.
1. Sexual Assault
We've heard him on tape with Billy Bush. Books and articles have been written about his abuse of young models. 25+ women have come forward to accuse him publicly of sexual misconduct, assault, and rape. Michael Cohen says in his book Trump ogled his 15-year-old daughter and asked him "when did she get so hot?" He was often seen sneaking in and out of his New York neighbor Jeffrey Epstein's Manhattan mansion. And he has a long history of "joking" about dating his daughter and sex with "troubled teens" and young women. Trump dismisses all of the allegations but when given the chance to clear his name of a rape charge by giving a simple DNA sample, he not only declined, he called in Bill Barr and the DOJ to complete the cover-up.
2. Racial Discrimination
From violating the Fair Housing Act in the 1970s to paying fines for moving black employees out of sight to appease racist casino gamblers in the 1990s to an endless stream of incendiary racist remarks in the 2000s, Trump has a long and well-documented history of racism, much of it illegal. Racism is what propelled the Birther-in-Chief's political rise. And his racism is on full display in 2020, encouraging conspiracy theories about Kamala Harris and now even saying it would be an "insult" if Harris were to become President.
3. Bribery
As a businessman, Trump routinely bribed politicians, even bragging about it on the campaign trail when he ran for President. In 2013, his "charity" gave an illegal "donation" of $25,000 to Florida Attorney General Pam Bondi who then decided not to prosecute the fake Trump University, despite receiving at least 22 complaints from constituents detailing its "persistent fraudulent, illegal and deceptive conduct." Bondi would later be hired by President Trump to help him during his impeachment.
4. Consumer Fraud
Trump's lifetime of scams and frauds include ripping America investors off in a never-built condo development in Mexico and, famously, the aforementioned Trump University. It was a scam so relentless and evil that Trump had no problem separating war widows, seniors and the poorly educated from their life savings. It was such a blatant fraud that Trump quickly agreed to pay $25 million to settle the suit as soon as he was elected President.
5. Charity Fraud
Trump was even sick enough to team up with his son Eric to steal from kids with cancer. While attending events at Trump properties, donors were led to believe that "all donations go toward supporting the St. Jude Children's Research Hospital." In fact, "$400,000 or more" was steered directly to Trump businesses, while additional money was secretly given to other organizations. Separately, after years of scams and self-dealing, Trump's own foundation was shut down permanently in 2019, paying a $2 million fine for misuse of funds. New York Attorney General Letitia James said in a statement: "The president will be subject to ongoing supervision by my office, and the Trump children had to undergo compulsory training to ensure this type of illegal activity never takes place again."
6. Tax Fraud
As we now know, Trump's own niece Mary Trump was a major source for The New York Times' blockbuster 2018 exposé detailing the "dubious tax schemes" and "outright fraud" that multiplied the inheritance Trump received from his parents in the 1990s. Trump's entire wealth has been built on defrauding the government. Fraud that runs into the hundreds of millions has already been established. And that may only be the tip of the iceberg as Trump continues to battle to prevent the release of years of tax returns—the same returns he once promised he would willingly show America.
7. Bank Fraud
Remember when the Clintons were investigated for years over Whitewater—a real estate investment in which they actually lost $100,000? We found out in 2019 that Trump had committed a $270 million bank fraud in 2012 simply by inflating the value of one property in Westchester, NY.
Again, that's likely the tip of the iceberg. As The New York Times reported last month: New York prosecutors continue to investigate "possibly extensive and protracted criminal conduct at the Trump Organization" with "possible crimes involving bank and insurance fraud."
8. Insurance Fraud
Trump famously raided the 9/11 victims' fund for $150,000 even though his businesses were hardly affected. While that may have not been illegal, it prevented more deserving businesses from having access to that fund. But he definitely defrauded his Mar-a-Lago insurance company in 2005, claiming $17 million for hurricane damage that was limited to a few flattened trees and the loss of a few roof tiles. The Manhattan D.A.'s ongoing investigation is expected to turn up more examples of Trump's and the Trump Organization's insurance fraud.
9. Money Laundering
While Trump's tax returns are perhaps still hiding the full extent of Trump's money laundering for the Russians, what we already knew in 2016 was bad enough: As CNN reported: "The Trump Taj Mahal casino broke anti-money laundering rules 106 times in its first year and a half of operation in the early 1990s." In 1998, the Taj Mahal paid "the largest fine the federal government ever slapped on a casino for violating the Bank Secrecy Act." Just this past weekend, legal analyst Barb McQuade told Ali Velshi that new revelations in Michael Cohen's book could open Trump to additional charges of money laundering in relation to his hush money payments to Stormy Daniels and Karen McDougal.
10. Petty Theft.
For a supposed billionaire, Trump is not above engaging in some petty theft. He was one of the celebrities caught up in Fifth Avenue jewelry retailer Bulgari's "Empty Box Scam," in which customers walked out with the jewelry they bought while empty boxes were sent to New Jersey to avoid paying New York sales tax. Caught in a petty crime that could have cost him his casino license, cheapskate crook Trump contacted investigators and agreed to testify against retailer Bulgari.
Beyond these 10 examples, Michael Cohen's new book reveals additional crimes Trump committed to win the Presidency, including the blackmail of Jerry Falwell, Jr. who was threatened with the release of "racy photos" in exchange for his endorsement. (It makes one wonder again just what does Trump have on Lindsey Graham?)
As I said in 2018: the rule that you can't indict a sitting president should not apply to crimes that made a person the sitting president.
But here we are in 2020, with Trump and his Postmaster General and his illegal appointees openly committing (or encouraging supporters to commit) crimes as Trump tries to steal another election.
All while claiming to be the "Law and Order President."
---
Keep Unprecedented coming to your inbox! All posts will be free through election day, so whether you'd like sign up for $0—or support with a paid subscription—just click here:
If you'd like to support with a one-time donation, I've added a "buy me a coffee" option, too: